Written by Brendan O'Meara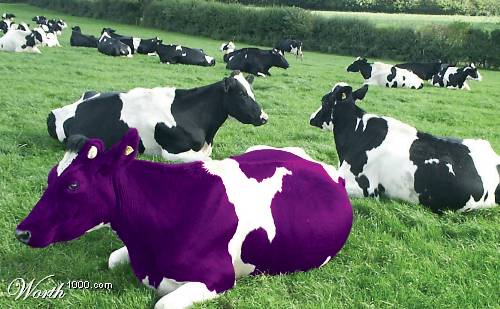 As many of you know I'm big into marketing for writers. Authors need to be savvy at creating buzz around their work. Nobody else will.
Author Seth Godin is a marketing guru, and in the canon of his books, I've read "The Purple Cow: Transform Your Business by Being Remarkable." [Also reading "Meatball Sundae", and I'll have insights from that book as well.]
You're driving down a nice country road in south Jersey and you look at all the pretty cows. Soon those pretty cows look homogenous, boring. Then you see a purple cow. Holy sh*T! Did you see that purple cow!? It stands out. It's remarkable.
Sure, much of it revolves around businesses that provide a particular service or product, but many of the principles apply to writers. What's key is NOT appealing to the masses. There is so much static and distraction: Internet, TV, iPad, iPhone, movies, kids, dogs, elections, the Tunguska Event. You name it. You need to get nichey with it.
Wait for it: here's the question writers love to hear … Who's your audience? Who's going to buy your book? And once you figure that out, how will you stand out? How will you be remarkable?
There are four groups of people Godin describes and they fall into the typical bell-shaped curve. On the far left are the Innovators and Early Adopters (leaders looking to get a jump). The belly of the curve is the Early and Late Majority (followers). Laggards fill out the far right (slackers, people buying their first digital camera today.).
The key is to appeal to the far left: the innovators and early adopters. They are passionate consumers looking for the "in" thing. They like to be ahead of the masses so they can recommend cool products to their friends. These people somehow have the iPhone7, the one with the inter-planetary time warp. Essentially, these people are bloggers eager to review and share their insights. As writers in a tenuous publishing climate, we need to seek out these people. They will review your work and talk about it to their 500, 1,000, 2,000, 10,000 followers.
If you can reach several dozen bloggers and their collective readership is 100,000 people and 10% of those people buy your book, that's 10,000 books. Not New York Times Best Seller stuff, but that's a lot of books from a modest reach. What if you reached 1,000,000 people from 100 bloggers?
Of course you still need to write a great book. But let's assume you already knew that. All of this is moot if your book isn't fit to line bird cages.
What do a lot of [wannabe] writers do? Trust me, I've spoken to a lot. Many love this idea of holing up in a cabin and being the solitary writer. Steaming coffee. A fire. Snow in the mountains. This is unremarkable in terms of building a brand. Stephen King can do this. Suzanne Collins can do this. You can't.
Sorry.
Things I do?
No. 1, and this might seem stupid, but I feel it's gotten me this far, however far that is. I suit up. I always wear a suit when reporting and when I appear in public. I feel it's how I got the access I got to the executive characters in Six Weeks. Especially as a sports writer, dressing nicely makes you remarkable, you stand out from the sheep. Plus it makes me feel good. First impressions, when you see a guy in a nicely tailored suit standing next to a guy in tattered khaki shorts, flip-flops, and a ball cap, who will garner a better first impression? Exactly.
No. 2 What I'm working on are videos and book trailers. Goofy mini-movies that sometimes touch upon writing and books. Sometimes they might just be a funny skit. What's the point? Well, I don't want to be "spammy" for one, but I also just want to entertain in a different form. If people are drawn to those videos, they'll be more likely to sample my work. To quote Godin, "Don't Be Boring," and "Safe is Risky."
Another idea that I'm going to employ? Giveaways. This isn't completely novel, but I have a theory if you give away something, it will snowball into better publicity if the people signing up for the giveaway 1.) Like it. And 2.) Review it on Amazon and Goodreads and spread the news.
Again, Innovators and Early Adapters.
Which is why, if you've made it this far in this post, I will give away—for free!—a personalized copy of my book "Six Weeks in Saratoga: How Three-Year-Old Filly Rachel Alexandra Beat the Boys and Became Horse of the Year." All you have to do is subscribe to my blog using the email form at the end of this post. Or you can click on that "Follow" tab in the lower right-hand corner. Once you're confirmed, I'll contact you for your address and see how you want your book signed and I'll mail it away Media Rate (7-10 days delivery time).
Books go to the first 30 subscribers, so I'd love to hear from you in the comments and I'd love for you to subscribe.
Go! Be Remarkable!