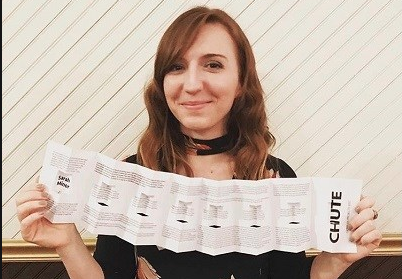 By Brendan O'Meara
Tweetables by Sarah Minor (@sarahceniaminor):
"I have to remind myself that I have to be a little nuts to do this. I think all writers have to be a little crazy."
"Really what I'm always looking to go back to when I read is a book that is very sure of its own voice."
"I have rarely began with structure."
Yo. Wanna help the podcast? Leave an honest review on the iTunes, send me proof, and I'll coach up a piece of your writing of up to 2,000 words OR give you a fancy transcript of any single episode of the podcast you like. That was easy. Let's go.
It's that time again, what's up CNFers, my CNF-buddies, this is The Creative Nonfiction Podcast and I am your radio-handsome host Brendan O'Meara. This is the show where I bring you talented creators of nonfiction—leaders in narrative journalism, essay, memoir, radio, and documentary film—and tease out origins, habits, routines, influences, books, mentors—so that you can pick some of their tools of mastery, add it to your cart, and checkout free of charge.
That sounds fun, right?
This week I bring you Episode 89 with Sarah Minor, @sarahceniaminor on Twitter and @sarahcenia on Instagram). She is a professor and a writer and her essay "Threaded Forms: Decentered Approaches to Nonfiction," looks to knitters, stitchers, and quilting bees to discover new and subversive models for writing memoir.
In this episode we talk about:
Visual Essays
How boredom dictates her direction
Losing voice and finding it
And the ever-present battle of dealing with social media
Let's do this.
Okay, if you stay here you'll be able to sign up for my monthly reading list newsletter that has book recommendations and what you might have missed from the world of the podcast. Once a month. No spam. Can't beat it.
Books Mentioned
The Argonauts by Maggie Nelson
The Boys of My Youth by Jo Ann Beard
Dreaming of Ramadi in Detroit by Aisha Sabatini Sloan
You Animal Machine by Elena Sikelianosk
The God of Small Things by Arundhati Roy
The Next American Essay edited by John D'Agata
Documentaries