Written by Brendan O'Meara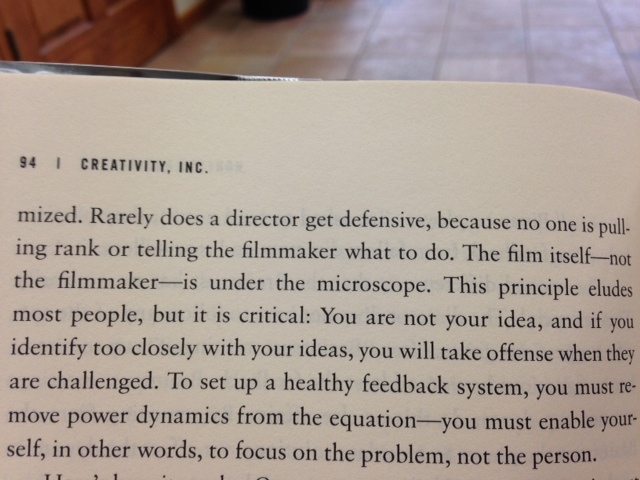 I've been fascinated by Pixar over the years and their ability to churn out such good movies. So when Creativity, Inc. by Ed Catmull (with Amy Wallace) was available at the library (cheap, Brendan, cheap) I checked it out. The above passage inspired this short post.
It is so easy to get offended when your creative ideas are rejected. It's easy to take absorb a slight against your work and think that it is a slight against you. If someone says your work lacks soul, or depth, or excitement, it's easy to suggest that they think you lack soul, depth, or excitement. Then you get angry. Then you lash out against the establishment. Then you're no better than the other pigs who do nothing but complain about the state of things instead of powering ahead.
You're better than that, so you keep on working.
It's always important to remember that if you as an artist have reached the stage where the work is getting evaluated and rejected, you're already ahead of 75 percent of creatives. (I can't know this number for sure, but so many talk the game but then when it comes to submitting their books, they clam up.)
There have been so many times when I submitted a draft of an essay or a book and, like 99 percent of everything I pitch (I pitch a lot), they got rejected. But when they got rejected, often I realize I submitted too soon. It wasn't ready, but I jumped out of the blocks before the gun went off. I get impatient and I just want it OUT THERE.
The rejection is a nice time to reevaluate the standing of the work. If it's genuinely solid and it gets rejected, it goes out in the mail the next minute. If it's not that good, if it's just acceptable, if it's still in its second trimester, use the rejection as a sign that it needs more gestation.
When it finally gets accepted, you'll be so thankful for those early rejections and wiser for not taking it personal.