[subscribe2]
Written by Brendan O'Meara
385 Words, Read time: 90 seconds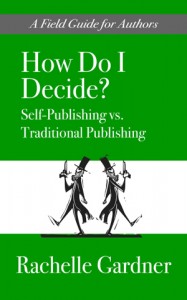 If an agent immediately recognizes the value and salabiility of your book, you might hand representation quickly. On the other hand, the process can also go on for months or even years without results, which can be excruciatingly frustrating and discouraging.

—Agent and Author Rachelle Gardner
Any writer who takes themselves seriously recognizes the above statement from How Do I Decide? Self-Publishing vs. Traditional Publishing not for having read it anywhere, but because they have felt it.
Perhaps part of that deals with a misunderstanding of publishing. You wouldn't teach if you didn't know how to develop a lesson plan. You wouldn't open a restaurant without knowing that it's about more than food. So why would you attempt to write a book without knowing the fundamentals of publishing? Yet thousands and thousands of writers and would-be writers approach the craft whimsically.
Literary agent Rachelle Gardner's e-book—a book that takes no more than 90 minutes to read (I'm a slow reader, you may read it faster)—irons out the nuts and bolts of publishing and lays out itemized lists to guide you down the path to either traditional or self-publishing.
Self-pubbing may be worth it if, "The frustration of agent querying and rejection is probably the number-one reason many authors choose to self-publish," Ms. Gardner writes.
"A defining factor of self-publishing," Ms. Gardner writers, "is freedom: there is no external barrier. Essentially it's all up to you."
As an agent with a large catalog of authors and a social network extending into the 40,000s, Ms. Gardner is just the type of writer who can benefit from self-publishing. She has a ready-made audience. That very same ready-made audience is what would make her attractive to traditional publishers as well.
You might also think as a gatekeeper, Ms. Gardner would staunchly advocate for traditional publication (and one Amazon reviewer picked her language apart for this very reason), but she plays both sides.
I, too, like to pick through language, and I was ready to read a book with a slant toward the traditional, but having been a long-time follower of Ms. Gardner's blog, I know she's more in favor—and a fan of—great writing and story telling, no matter the form.
What thought have you given toward self vs. traditional publishing?
[subscribe2]