Photo courtesy of www.jonathanevison.net
Written by Brendan O'Meara
I recently finished "The Revised Fundamentals of Caregiving", a novel by New York Times best-selling author Jonathan Evison. It's the best book I've read all year. The book is wildly funny and punishingly sad.
It's a first-person narrative told by Ben Benjamin, a former stay-at-home dad who takes a course in caregiving. The workforce has passed him by and this is his way of rebuilding himself. He works for the sexually frustrated and tyrannical 19-year-old Trev, who is disabled by MD. Trev's world is small, limited by his physical body. Ben is disabled in another way. The two are an unlikely pair. They need each other and they hit the road in their van for adventure, for deliverance.
I reached out to Evison on Facebook, asking him if he'd answer some questions. He said he's on the road a lot, but if I emailed him he'd answer them as timely as he could. I emailed him some questions. He answered them in about an hour. Yeah, he's that kind of guy. Few authors would do that.
As fate should have it, I went to Maryland this past weekend and he was a featured author at the Baltimore Book Fest. He's approachable and has earned his lot. He said at the festival, "I succeeded by failing."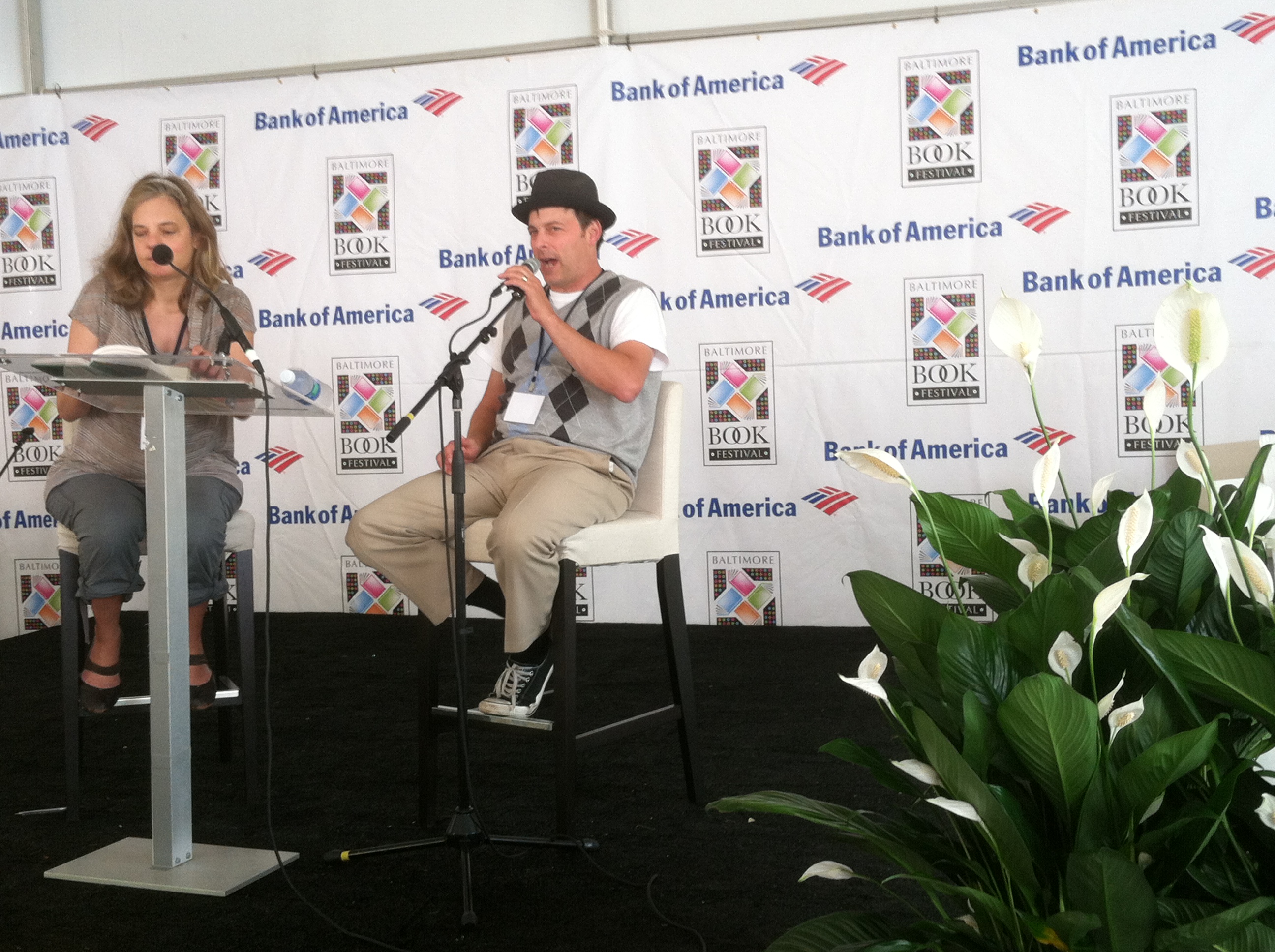 BO: You're last novel "West of Here" is big in body and scope, "RFC" is tighter and narrower in its focus, what was the motivation for the change in tactical story telling? "RFC" is deeply personal for you.
JE: Every novel I try to challenge myself in some new way. With "West of Here", those challenges were formal and structural. With The Revised Fundamentals, the challenges were emotional. I had to dig up a lot of old bones and strew them about, plum a lot of emotional depths, etc. In the end, it was nothing less than cathartic.
BO: Ben is broken. How did you come to nursing/caregiving for Ben to rebuild himself?
JE: My life was in the shit-can ten years ago. My first wife left me for a surfing Buddhist, I was working at an ice cream stand, and I was sitting on eight unpublished books. There were a couple of yeas that were just a blur. I took  a night course in caregiving, which really helped turn my life around. Caring for others while I was barely able to care for myself, built me back up into something resembling a human being.
BO: Trev's orbit is small, to expand it without risk, he watches the Weather Channel and puts pins on a map, how important was it for him to break free? Did you need a physically limited person for Ben to feel needed again?
JE: Man, I did everything within my power NOT to write a road novel—I was really resistant to the idea. You can feel me trying to subvert the road novel for the first hundred pages. Finally, I just had to give in. The characters made me. They needed the road to deliver them. I'd say Trev and Ben are equally limited. While Trev is physically disabled, Ben is emotionally and spiritually bereft. Also, I think they care for each other equally. Ben needs Trev every bit as Trev needs Ben. Wait, did I answer the question?
BO: How did you approach the writing? Ben has a crushingly sad history and that is carefully parsed out. How did you approach that strategy instead of just dumping it on the reader?
JE: I wanted Ben to earn the reader's respect. I didn't want anyone feeling sorry for any of my characters, not right from the get-go. I wanted to show them warts and all. Structurally, I always visualized this novel as an artichoke, where the reader peels back the layers of armor to get to the heart of the thing. Handling this just about any other way risked being mawkish, I think.
BO: How did you go about assembling this ensemble for the road trip?
JE: I think my unconscious mind did most of the heavy lifting. The cast just seemed to appear inevitably along the way. Each new character naturally addressed one of somebody else's needs—usually Ben's or Trev's.
BO: Many—if not all—of the characters are in limbo, hinged to a heavy past, but trudging through the muck to move forward, talk about that commonality.
JE: Well, first, flawed as they are, they're all doing the best they can to manage what they've got. Critics have called my characters losers, but they're not. They're not quitters. They're not pessimists. They wanna believe things will get better, and so they grope their way through, often failing miserably along the way, but always meaning well. They want to re-invent themselves, they want to find hope, they want to be decent people.
BO: Now, either you had a blast on Urban Dictionary.com, or you're incredibly depraved—or both—which is it? Ha!
JE: All of the above! I'm pretty sure I made up a few of those sex acts.
BO: How did you strike a tonal balance between humor and somber in the book?
JE: Necessity. I don't think I could write about irredeemable loss without a lot of comic relief. Tragedy and comedy are all tangled up in my mind, always have been. So striking this tonal balance came very naturally to me. I grew up around gallows humor. Some of the most tragic events in my life have been tinged by humor. Like finding my grandmother dead, with Tums antacids bubbling out of her mouth, and discovering a TV dinner at her bedside, and seeing she only ate the cherry pie, and left the rest. Now, that's not funny, but c'mon, it is, right?
BO: One of my favorite turns of phrase comes toward the end when talking about, of all things, Mr. Baxter the fish, "I'm guessing he's bat-shit crazy from turning circles in that murky little bowl his whole life, and that he doesn't care anymore whether he lives or dies. Then a few pages later when he's expelled from his bowl, "Mr. Baxter, who I've sorely misjudged, is flopping furiously for life on the nearby throw rug …" How did you come to these hysterical places in the book?
JE: Again, my poor bumbling characters led me to them, more often than not. In the case of Mr. Baxter, his life is a perfect reflection of Ben's own circumstances—stuck, dissolute, depressed. Ben empathizes with him.
BO: The men in your books—Ethan Thornburgh (West of Here), Ben, Bob, etc.—feel shrouded in inadequacy, have something to prove, where does that come from?
JE: I love the theme of masculinity in crisis. Hell, I was raised by bodybuilders, how could I not? As much as I imagine it sometimes sucks being a woman in a world that is all-too-often tailored to the masculine sensibility, it's anything but easy being a dad in our culture, and living up to the various expectations foist upon us by ourselves, and by women, and by our children. I'm just fascinated by the nuances.
BO: On your epitaph you write, '… Mostly, he lasted.' The same can be said for Ben, right?
JE: And the same can be said for your beloved Red Sox.
BO: Changing gears, give me as sense of the work you put in to illustrate the difference between BEING a writer and those who crave to occupy the writer's space (Every book signing I've done, I get a couple of people 'writing their books' but they never do, partly because they don't realize that it's WORK)?
JE: Oh, I work my ass off. I get up at four in the morning to write. Do you think I wanna be up at that hour? Hell no. That said, it doesn't feel like work to me, because rather than draining my stores of energy, it begets more energy. The work makes me a more expansive person—a better husband, a better dad, a better friend. It's pretty sill to want to occupy the writer's space, because by and large, it is an exercise in humiliation. The work is where it's at.
BO: For writers, what has been you experience in promotion your work Is there anything that's a waste of time and/or money? What should a writer do YESTERDAY that he or she isn't doing today?
JE: Don't think of it as promoting, for one. I think of it as an extension of the work. Me, the artist, reaching out, trying to connect with readers. It's always better to start a dialogue, rather than just blow your own horn. Nobody will listen. You have to engage your readership, not recruit them.
BO: What types of rejection have you faced?
JE: Easily 400 form rejections. Not to mention all manner of other rejections in life. Failure makes me stronger.
BO: Can a great writer be made, or, like a gifted singer, is greatness handed out to the few, like Pavarotti? Can it be earned?
JE: Beats me. I guess I think, like Kierkegaard, that the artist herself should be the first work of art. If you can make yourself into a good, kind, empathetic, observant person who cares deeply about the human condition, and you entertain an endless curiosity, well, then you can probably learn to string some sentences together.
BO: How do you spend your non-writing time?
JE: Drinking and chasing my kid, in no particular order. I walk in the woods a lot, play scrabble with my wife, play a lot of ping pong with my nephew.
BO: How much do you THINK about the act of writing?
JE: Always. I AM the act of writing.
[Brendan's back] And if that wasn't entertaining enough, you should take a look at the book trailer for "The Revised Fundamentals of Caregiving." I love it. I actually have some commercials in this vein in the hopper. It's what Seth Godin would call a "purple cow." Great to see someone of Evison's profile adopting it. Take a look:
[subscribe2]