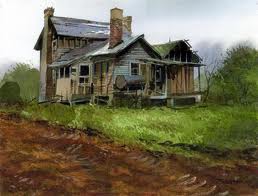 I was cleaning out some of my shelves, getting rid of come books I'll never read again, shredding old bank statements, trying to de-clutter my hoarding of paper ANYTHING, when I came across a short story I wrote when I was 13.
In those days as my body was changing and girls cast this weird spell on me, I was reading a lot of R.L. Stine (I had finally graduated from Roald Dhal). He wrote teen horror books, suspenseful, bloody, I liked them more than girls because these books liked me back!
The story I'm about to re-type below is 315 words. That's it. I read it and felt stronger about this piece I wrote back in 1993 than I do half the time I write anything these days. Maybe what that means is I shouldn't think so hard about what I write and just write the damn story. This story is a word-for-word transcription. Any bad grammar or misspelled words must be read with a collective [sic]. Ready? No, that wasn't good enough! Are YOU F*CKIN' ready!? I thought so. Let me know what you think.
The Sound Upstairs
The house was near the beach. It was a big old place where nobody had lived for years. From time to time somebody would force open a window or a door and spend the night there. But never longer.
Three fishermen caught in a storm took shelter there one night. With some dry wood they found inside, they made a fire in the fireplace. They laid down on the floor and tried to get some sleep, but none of them slept that night.
First they heard footsteps upstairs. It sounded like there were several people moving back and forth, back and forth. When one of the fishermen called, "Who's up there?" the footsteps stopped. Then they heard a woman scream. The scream turned into a groan and died away. Blood began to drip from the ceiling into the room where the fishermen huddle. A small red pool formed on the floor and soaked into the wood.
A door upstairs crashed shut, and again the woman screamed. "Not me!" she cried. It sounded as if she was running, her high heels tapped wildly down the hall. "I'll get you!" a man shouted, and the floor shaked as he chased her.
Then silence. There wasn't a sound until the man who had shouted began to laugh. Long peals of horrible laughter filled the house. It went on and on until the fishermen think they would go mad.
When finally it stops, the fishermen heard someone coming down the stairs dragging something heavy that bumped on each step. They heard him drag it through the front hall and out the front door. The door opened: then it slammed shut. Again, silence.
Suddenly a flash of lightning filled the house with a green blaze of light. A ghastly face stared at the fishermen from the hallway. Then came a crash of thunder. Terrified, they ran out into the storm.
***
Yeah. I got an A+.
Re-reading this my 13-year-old self taught me a thing or two. This story was only 315 words, which to a seventh grader must've felt agonizingly long. I had baseball or soccer practice to tend to. I needed to fantasize about the girls in my grade with their new-fangled boobs. I read this ghost story and realized it doesn't have to be longer, or more gruesome, or with better character development. To me it's suspenseful and spooky and, quite honestly, better than anything I've written in a long time.
Maybe I'm being too hard on my 32-year-old self, but the next time I feel like I need to write something long, I'm going to pressure the writing to be uber tight, like, Olympian tight, like gymnast tight.