[subscribe2]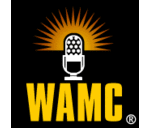 Written by Brendan O'Meara
When you live in the Capital Region of New York, you have access to one helluva public radio station. Led by the tireless President and CEO Alan Chartock, WAMC conducts three fund drives per year where it has to raise $1 million per drive for $3 million a year. It takes 10 days for WAMC to raise the money. That's $100,000 a day. Amazing. Especially with an economy grinding along with the energy of a 3-toed sloth.
Some people donate $5, others several thousand. But I have a good way to make it easy to make the money. This goes right to the listeners. Here it is? Ready? Good.
Treat your radio like a WAMC Jukebox. Every day (just once a day), when you turn on WAMC, put $1 in a jar, or transfer it electronically into your savings account. $1 a day. If you listen five days a week, that's $260 a year. Multiply that by 400,000 listeners (maybe a bit high) and that equals $104,000,000. Divide that by $3 million and WAMC wouldn't need to have a fund drive for another 34.66 years. Even if it's 100,000 listeners, that's still $26 million. A dollar a day, you won't even feel it.
It's just that simple.
[subscribe2]