[subscribe2]
Written by Brendan O'Meara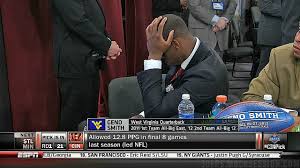 Yes, the NFL Draft, the annual meat market where football coaches and general managers look to project a human being's value, has come and gone. The lessons of the Draft are so valuable to the writer. Take Geno Smith.
Smith was the quarterback for the West Virginia Mountaineers. He was projected to be a slam-dunk first-round pick. But his name was never called. He dropped and dropped. At last he went early in the second round. At least he wasn't Tom Brady who didn't get drafted until the sixth round as the 199th overall selection.
Think about that for a moment. Tom Brady, Super Bowl hero, super model marrying, Ugg-endorsing playboy was deemed the 199th best player in the 2000 draft. In writing terms, he was rejected 198 times. He then saw owner Bob Kraft and told him he was the best decision he ever made.
As the rejections mount for your book, or your essay, or your love life, just think every no is one step closer to a yes. I can't tell you how many times I've let the 'no' devalue my worth. One 'no' ended my baseball career. I can't begin to tell you how many rejections I've received for the three books I've written. My first, unpublished, has probably 20 rejections. My second book, Six Weeks in Saratoga, was rejected 15 times or so, and The Last Championship is, let's say, getting up there, a career-high even.
One agent went so far as to bash the writing. Let's excerpt that for comedic effect:
Thank you for the chance to read your proposal for The Last Championship: A Memoir of My Father and Baseball, and please accept my apologies for the time it has taken me to get back to you. The father-son relationship at the heart of this story is appealing, but, ultimately, I didn't find the characters or the scenes as engaging as I'd hoped. Without the necessary enthusiasm for the writing, I'm just not confident that I'd be able to sell the book effectively. I'm sorry that this wasn't a match, but I'm grateful to you for the opportunity to consider your work and wish you luck in finding representation.
Trust me, I was licking my wounds after this one. I came close to hitting the EJECT button on the cockpit of my career using a promising love of donuts as my parachute. Usually agents don't go so far as to say they don't like your writing. I appreciate the time he took to write this and to address that it was a total bomb.
What did Tom Brady do when 198 players went before him? He out-worked everyone, took advantage of Drew Bledsoe getting injured, and took his team on a 13-year run the NFL has never seen.
The diamonds are the ones who slip through the cracks. Your job, my job, is to make all those people who said no wish they hadn't.
That then begs the questions: When might it be time to give up/retire? But that's for another blog post altogether.
[subscribe2]