He's back for more. Brian Mockenhaupt wrote the compelling Byliner Original Three Days in Gettysburg about the war front hitting home.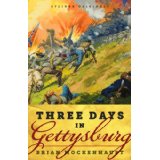 I wrote this on Amazon about the piece:
Brian Mockenhaupt, an intrepid and elite reporter of the living, turns his eye to those long gone. And as we near the 150th anniversary of that bloodiest battle at Gettysburg, Mockenhaupt, through his deft skill as an information gatherer, writes a compelling story about friendship, love, and loss in the most famous battle of the Civil War and its putrid wake for those left behind.

It culminates with President Lincoln presiding over a newly created memorial to the felled Union soldiers, a speech where he turns the volume down so we may hear the ghosts of Gettysburg.
And in this latest episode of Hashtag #CNF, Mockenhaupt talks about the challenges of writing historical narrative with nothing to consult but the archives.
Like what you hear? Subscribe on iTunes and subscribe to my blog. If you do, I'll send you a signed copy of Six Weeks in Saratoga.