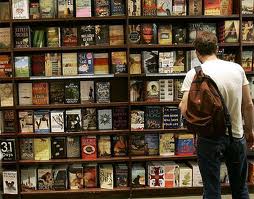 As many of you know by now, Northshire Bookstore is currently raising money to open another shop in Saratoga Springs. This is wonderful news for readers and writers alike. I am both. Words from owner Chris Morrow below:
Friends – thank you so much for your support! As the owner of the bookstore I'd like to share where we are in this process. We are actively raising money to make this store a reality. We are looking at a number of spaces, including the old Borders space. But nothing is certain yet – we have a ways to go. Your support is very encouraging to me and all involved in this process. I will keep you posted as decisions get made. Thanks.
For readers, there's no better place than an independent bookstore to hang out, browse the shelves, and buy the latest Stephen King or the debut novel that's making all the news. The people who work at independent bookstores are voracious readers and feel an ownership of books and the written word.
The bookstore is threatened by the digital publishing—a viable option to small fries like me. But passionately ingrained independent bookstores will always carry on, something Northshire has been able to do. They will stand the test of digital time.
As a writer, a bookstore and folks like Morrow and Mary Allen host such wonderful author events. I attended the Andre Dubus III reading and signing in March of 2011 and loved it. I was lucky enough to have my own event for my book Six Weeks in Saratoga.
Bookstores foster a community of readers. We need books. We need stories. And we need people who to speak with—guardians of books.
Downtown Saratoga Springs has one of the best libraries I've ever seen. When my wife and I have come close to moving for jobs and the like, we always think, "Will there be a library like the one we have here?" There's a vintage book shop in the Lyrical Ballad and with Northshire possibly opening up the doors to the old Borders building, Saratoga Springs will be the leader and champion of reading and writers in the Capital District.
What are your feelings about independent bookstores? What makes them so special?