Written by Brendan O'Meara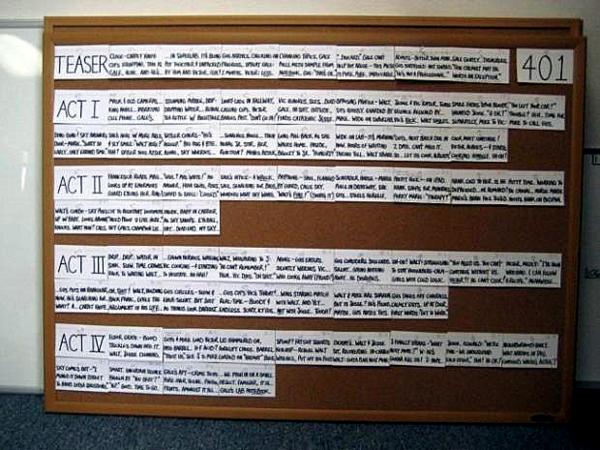 A Little Background
As a big fan of Breaking Bad, I'm as enamored with the process of Breaking Bad as much as the show. Its creator, Vince Gilligan, has always been forthcoming with the creative process. It's reassuring. A finished product, whether movie, book, or television show—when done well—gives the illusion of having been effortless. Emphasis on illusion.
Check out this interview with Gilligan.
For a single episode of Breaking Bad, the team of writers spent 8-10 hours a day hashing story ideas for a week or two to create the beats and scenes, for an episode. They then put those on note cards and tack them to the board. The writer for that episode then takes the board and spends about two weeks writing the episode. That's a lot of work.
The Value of Story Boarding
I was inspired.
I'm a product of daily journalism, sports journalism specifically. I go out, cover a game, then have 45-60 minutes to write and edit a story. It doesn't have to be good. Just good enough. I carried this mentality too much over to my narrative work. My notes are pretty scattered, unorganized, and I just write. Sometimes thousands of words at a crack just by the seat of my pants. And, if I'm being honest, I think the work has suffered. It's sloppy.
Many great writers take their time with structure. John McPhee, a hero of mine, hangs up note cards. They're his scenes and it allows  him to move them around. Spending time on this, on organizing, on thinking, makes the writing flow from the beats of the notes.
My stories have largely felt stagnant. They've been acceptable, but nothing of the stuff that ends up in year-end anthologies. I figured a logical step would be to adopt Gilligan's outlining, his story boarding.
At Staples, a 3'x4′ cork board is $48. No, thanks.
It was time I built my own.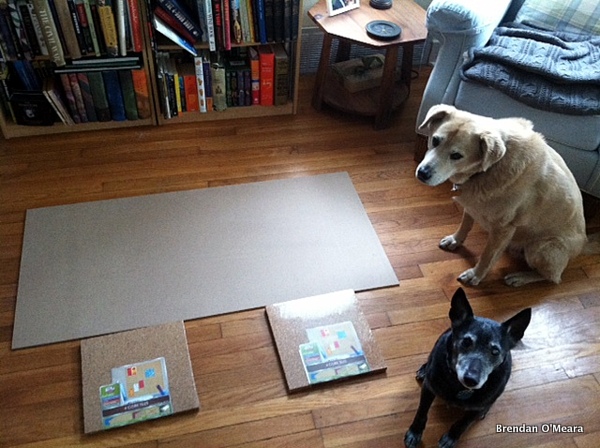 The Down and Dirty Cork Board: $21 to better storytelling
I went to Home Depot looking for a sheet of plywood I could adhere cork to. I found—on an end cap—these sheets of wood. Several kinds. I picked up a few and liked how sturdy this one felt. It was 1/4″ thick and 2′ x 4′. And it cost only $6.71. Bonus.
I got the cork from Target, two four packs, for $7.27 each. Two for $14.54.
All my parts were only $21.25, a savings of 44 percent over the one from Staples. Double bonus.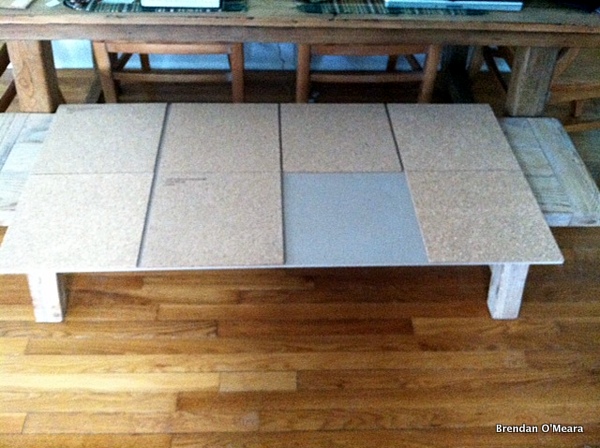 The cork came with stickers, so I just used them to space out the cork evenly. It wasn't a perfect four feet across so there's tiny gaps in between the boards.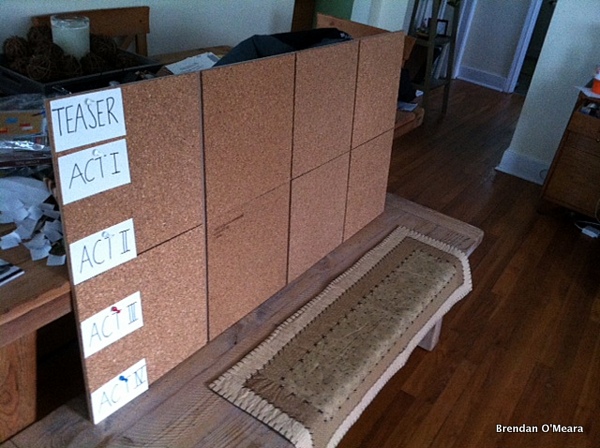 So, there you have it. For my longform magazine projects and book projects, I'll be rockin' this board. Maybe once I have my notes, I'll spend an entire day or two writing out my scenes and tacking them up, giving the story order and shape. To see an entire story in one flash will be of such value. The bricks are in place and just need the prose, the mortar to lock them in place.
Like the story? Want more sent to your email? Just sign up on the right! I could use some more Twitter followers and Facebook 'likes' too. I won't force you, but I always appreciate the love.